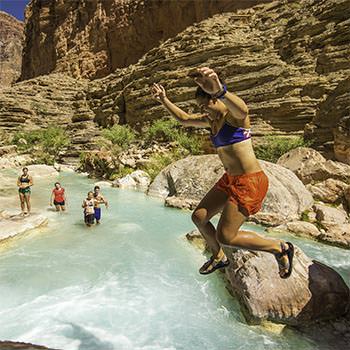 Havasu Falls & Havasu Creek - Grand Canyon
The inviting blue-green waters of Havasu Creek, and the popular Havasu Falls, in the Grand Canyon create an eye-popping desert oasis between towering red canyon walls in this tributary of the Grand Canyon and the Colorado River.
The Havasupai ("people of the blue-green waters") guard these waterfall gems in their remote canyon village, roughly 8 miles down from the trailhead on the rim. Getting to the trailhead itself is a feat given the vast distances between populated cities in the southwest. But the reward of Havasu Falls, Mooney Falls and Navajo Falls beckon many adventurers to pay the permit fees to the local natives, or to tour guides willing to get you there.