Cataract Canyon 2-Day Express
10th Anniversary Trip - Rafting the Colorado River Through Cataract Canyon
Annie . - GA, United States | July 6, 2020
My husband and I recently went on the Cataract Canyon Express 2-day trip as part of our 10th anniversary celebration and had an absolute blast on the river. Our traveling group was small (seven including the guides), and it was awesome. There was plenty of space on the two boats. The guides, Nick and Mitch, were fantastic - friendly, knowledgeable, and above all, entertaining. The scenery was incredible. The food was outstanding!
And the rapids? Well, the water level was lower than usual because there wasn't as much snowfall this past winter, but that didn't stop us from getting some pretty sweet hits on the water. Nick knew exactly where to go in the rapids to maximize our experience, and it was exhilarating. I almost got thrown off the boat during one of the rapids. I had to hang on for dear life, and it was wonderful! One pro tip: go ahead and wear the rain gear! It's a lot less cold that way. ;-)
Finally, camping under the stars was an experience I won't soon forget. The Milky Way was a sight to behold, and it was honestly one of my favorites parts of the trip. I very much want to return and go on another expedition with Western River Expeditions. You guys are the BEST.

Related Trips
Utah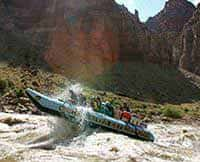 Cataract Canyon Express
Raft the 100 miles of Cataract Canyon in just 2 Days!
Utah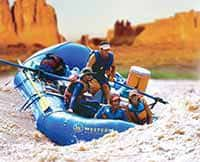 Cataract Canyon 4 Day Trip
Experience 4 Days through the heart of Canyonlands National Park.