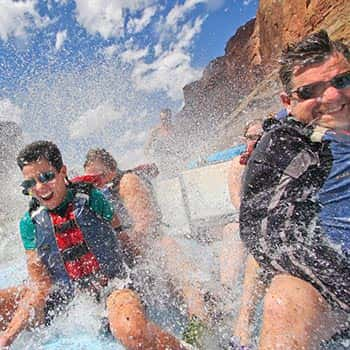 Colorado River Rafting
High in the pristine Rocky Mountain wilderness of Colorado, the mighty Colorado River begins. After winding its way across Colorado, the river enters some of the most spectacular river rafting destinations in the world, including Moab, Utah and the Grand Canyon through Arizona. These unparalleled destinations include famous Westwater Canyon, Southwest Sampler, Cataract Canyon through Canyonlands National Park, Grand Canyon 6 or 7 Day Vacation, and Grand Canyon 3 Day River Trip or Grand Canyon 4 Day rafting tours.
Rafting the Colorado River provides some of the most exhilarating river vacations in the world. Endless in scenic wonder and majesty, any trip along this river will be the adventure of a lifetime. See our list of Colorado River rafting vacations below for additional details.