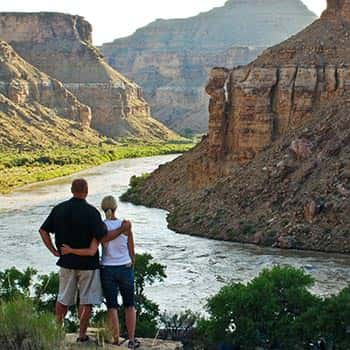 Green River Rafting in Desolation Canyon
Explore Utah's famous outlaw hideouts, ancient dinosaur habitats, and Fremont Native American petroglyphs. Discover the thrill of rafting one of America's Top 10 Rivers - Desolation Canyon on the Green River. Much of Green River carves through the Colorado Plateau in Southern Utah, boasting some of the most spectacular canyons in the United States. It is only slightly smaller than the Colorado River when the two rivers merge in Cataract Canyon.
Comfortable summer water temperatures and over 60 fun-filled rapids make rafting the Green River the ideal getaway for your next adventure. Green River rafting trips are offered during the months of June, July, and August, so plan ahead for your next adventure!