4-Day Grand Canyon Tour
Don't Miss Your Opportunity to Experience a Trip of a Lifetime.
Sean L. - PA, United States | June 3, 2022
My wife and I wanted to celebrate our 40th Anniversary with a special trip. We could not have made a better choice.

Like most people we live very busy lives. We planned our trip and I knew the itinerary but hadn't given it much thought. It was a surprise to realize every part of the trip was an amazing adventure.
Starting with the plane ride to the Bar 10 Ranch, we flew over the Hoover Dam, up to Lake Meade, and over the Mojave Desert to the ranch.
The Bar 10 ranch hands treated us like family and showed us what ranch life was really like. As an old PA farm boy, myself it was eye-opening.
On day 2 the helicopter ride to the canyon was fantastic. Flying out over the canyon rim was unbelievable and our trip had just started. At the bottom of the canyon, we met up with our group leader Joe. I'm pretty sure he is somehow related to John Denver. After introductions and safety orientation, we were on our way.
The next 3 days are hard to put into words, the beauty of the canyon and river, the stars at night, waking up in the canyon, great food, and camaraderie with other guests all. At the same time, the Western River team worked their tales off to make the expedition comfortable and enlightening.
This was not a once-in-a-lifetime trip, because we have to do it again.
Your Friends
Sean and Susan

Related Trips
Grand Canyon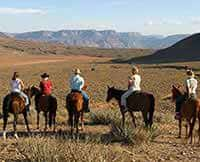 Grand Canyon 4 Day Tour
Combine your Grand Canyon rafting adventure with a day and night at a working cattle ranch.