3-Day Grand Canyon River Trip
75th Birthday Celebration
Barbara C. - RI, USA | May 20, 2022
When my 3 roommates from Wheaton College in Massachusetts were about to celebrate our 75th birthdays we decided we needed an adventure of things we've never done and one friend suggested Western River Expeditions and their 3 day river rafting trip. We all agreed this was it! And then COVID her and we had to postpone for two years. At 77 we were all a bit less stable and still excited. The helicopter ride through the Canyon to the rafting site was scary and exciting… unforgettable. The guides and the other guests were so helpful to us roommates helping with our tents, cots and a hand up on the raft. The wind and the sand made the trip even more of an expedition than anticipated. The rapids were perfect for us: exciting and manageable. The night sky and the food memorable, This was our perfect birthday celebration.

Related Trips
Grand Canyon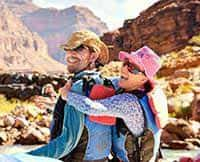 3 Day Grand Canyon River Trip
Raft 100 miles on the Colorado River through Grand Canyon.
Grand Canyon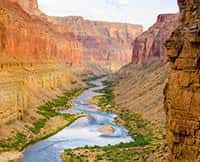 Grand Canyon Rafting Trips
Experience a 3 to 7 day expedition filled with whitewater excitement, spectacular waterfalls waterfalls and starry nights.