6-7 Day Grand Canyon Vacation
I Give the Grand Canyon 7-day Trip With Western River Expeditions Five Stars.
Rachel M. - Georgia, USA | June 3, 2021
I booked a seven-day Grand Canyon rafting trip as my first trip after the travel famine that happened in 2020. Space became available about a month out from departure on the first trip for the 2021 season in April. I convinced my most adventurous lady friend to join me in leaving our significant others behind and go. This trip was top-notch, exceptional, breath-taking, awe-inspiring, and I'd do it all over again in a heartbeat.
I had some nervousness and anxiety leading up to the trip departure. I worried I didn't pack appropriately. I thought about worst-case scenarios. I wasn't certain about outdoor bathrooms. I was nervous about falling overboard as I heard the water was frigid and I wasn't a strong swimmer. To these points that fretted my past self, I share these assurances:
The Western River Expeditions website has a plethora of information about packing. Follow the packing list, watch the videos, and you'll be just fine. If you are going for an April trip, a splash jacket and splash pants are appropriate if you ride as a hood ornament upfront on the J-Rig through the rapids (an experience highly recommended). But, if practicality rules the bank, rain pants work well if you tuck your cuffs into your neoprene socks. The only extra items not on the packing list that I brought were an inflatable backpacker's sleeping pad and a wine tumbler. The inflatable sleeping pad helps insulate the underside of the sleeping bag, and it's more comfortable on the cot than the thin, short mat provided for early trips. The wine tumbler was my cocktail vessel. The one thing I wish I brought was my small travel tripod for night sky photos.
The guides that lead your trip are exceptional--they literally have decades of experience and are more than prepared for any 'worse case' scenario. They know this Canyon like it's their backyard. The first day has multiple safety briefs for being on the water, technical talks like how to set up your tent, and seriously professional tips on how to use the bathroom outdoors. You'll learn that giving privacy is better than finding privacy when making pit stops. Also, some of the toilet views from campsites are postcard-worthy.
The J-Rig is quite sturdy. Your lifejacket is your best friend, and frankly, the water is too cold to enjoy a swim. You will be splashed and soaked daily with the rapids whether you wanted to be or not. It was welcome on hot days. Bathing is a chilly adventure in itself, although necessary. The guides bring you to warmer places off from the main river like Little Colorado to get into the water if you do want to get wet or float down a current.
It is rare to have a life-changing trip, though I believe that every trip taken changes a part of the traveler. Traveling down the Colorado River for seven days, being unplugged from the world, sleeping under the stars, and basking in the scenery that took billions of years to make allowed me to reset and realign. Nothing compares to waking up every morning to a bugle call and cowboy coffee watching the sunrise over the rim of the canyon. This trip with this company needs to be a high-priority bucket-list adventure.

Related Trips
Grand Canyon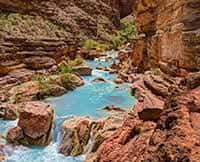 Grand Canyon 6-7 Day Vacation
A unforgettable journey of 188 miles from Lake Powell to Lava Falls.