Hells Canyon Rafting Trip
A Great Trip in Hells Canyon! Met All of Our Expectations
Wayne T. - , | August 12, 2019
The Snake was fabulous! There was an abundance of wildlife...eagles, bighorn sheep, bears, otters. The only reason the trip was not rated 5 stars was that two of the four guides were adequate but not fabulous. I was with one and he failed to point out the Nez Perce Crossing, an important historical landmark on the river.

Related Trips
Idaho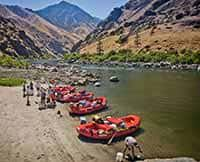 Hells Canyon Rafting Trip
The deepest river gorge in North America and some of the largest whitewater rapids in the Pacific Northwest.