Cataract Canyon 4-Day Trip
A Most Amazing Trip
Heather . - CO, USA | July 15, 2019
Our trip through Cataract Canyon was spectacular!! Our guides (Steve, Shad, Amiee, Paco and Jacob) are responsible for making the trip as great as it was!! Our group was very large, but they spent time getting to know each person and they were very knowledgeable of the area and the stories that surround several keys areas throughout the canyon. I thought Steve's "TOTO" canister was a brilliant idea. However, the only think I would change about the trip is the pee cups. I would use anything other than CLEAR plastic!! It would make it a lot less mortifying to carry the cup through the entire group to the river for disposal!!! Western River Expeditions is an amazingly organized and friendly company and I loved my trip!! Thanks guys!!!

Related Trips
Utah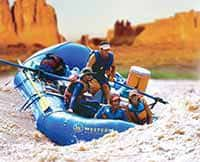 Cataract Canyon 4 Day Trip
Experience 4 Days through the heart of Canyonlands National Park.