6-7 Day Grand Canyon Vacation
One of the Most Memorable Vacations We Have Ever Taken.
Barbara & Bob . - New York, USA | October 1, 2021
Our Grand Canyon 7-day trip was one of the most memorable vacations we have ever taken. It was exhilarating, and at times exhausting. Rapids tossing you around like a cork, but an incredible ride, and then the calm parts of the Colorado feeling so nice and peaceful, giving you a chance to take in the scenery and learn about the Canyon from our wonderful guides. It was a real participant trip, where you felt part of the adventure.
Our crew (Craig, Stephanie, Mark, and Dan) were fantastic. They were capable, knowledgeable, helpful, patient, we could go on and on. And we met some wonderful people. We had hiked in the Canyon a few years ago, but this trip gave us a whole different perspective. We would highly recommend Wester River if you are looking for an immersive Grand Canyon experience.

Related Trips
Grand Canyon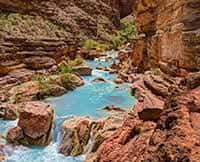 Grand Canyon 6-7 Day Vacation
A unforgettable journey of 188 miles from Lake Powell to Lava Falls.
Grand Canyon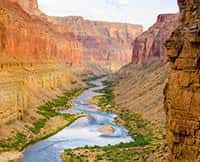 Grand Canyon Rafting Trips
Experience a 3 to 7 day expedition filled with whitewater excitement, spectacular waterfalls waterfalls and starry nights.