6-7 Day Grand Canyon Vacation
They All Are Perfect Days in the Grand Canyon.
Eva S. - Colorado, United States | August 27, 2023
They all are perfect days, even when a rain squall showers down as you set up camp, but especially when you see the morning rays strike the canyon walls as you quaff coffee, bacon and eggs, as you watch falling stars and meteors in the night sky, as you ride down into towering rapids, as you consider billion year gaps in rock layers, as you play music to your first audience, as you submerge in the flowing river for your evening bath, as you jump into and feel the power of a waterfall.

Related Trips
Grand Canyon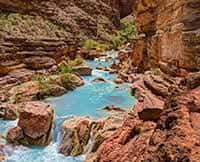 Grand Canyon 6-7 Day Vacation
A unforgettable journey of 188 miles from Lake Powell to Lava Falls.
Grand Canyon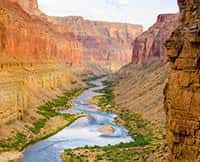 Grand Canyon Rafting Trips
Experience a 3 to 7 day expedition filled with whitewater excitement, spectacular waterfalls waterfalls and starry nights.