6-7 Day Grand Canyon Vacation
A Phenomenal Grand Canyon Trip
Charlotte . - LA, USA | July 7, 2019
This was my second trip down the river in Grand Canyon and just as fun and exciting as the first. No doubt the Canyon itself was amazing, but I can't say enough about the Western River guides. Newty, Parker, Shad, and Lauren were personable, friendly, safety-conscious, entertaining, knowledgeable, and FABULOUS cooks! The rapids were a blast; the hikes were beautiful. The little Colorado River, Havasu, and Deer Creek were breath-taking.
Below is a poem I wrote while on the trip. Feel free to share publicly or just with the guides.
A Grand Trip 2019
By Charlotte Shelley
Day 1 was finally here
And we were really amped up
But first lessons on pottying, safety,
And how to set our camp up
Once again, House Rock,
You didn't let me down
But this time I didn't let you
Flip me all around
Granny's Rocker was fun
With an unexpected lick
Preparing us for the next one
The little Indian ***
Our first camp set up
Our last challenge of the day
Setting up chairs, cots, and may be a tent
We all learned the tricks of their trade.
Dinner was delicious
Crab hors d'oeuvres and NY strip
Four more dinners ahead
It'll be hard to top this
Day 2
We met Ms. Georgie
Quite a feisty one
A pioneer in many ways
Day 2 began with lots of fun
The little Colorado River
Was such a special treat
Plug your nose & lift your butt
Or you'll get your ass beat
Max learned to whistle
Tess, you'll get wifi soon
My goal is to be like
Lou, Jim, and June
The stars were amazing
Such a stunning sight
I've never seen such a sky
Beautifully light up the night
Day 3
A busy day on the river
With rapids and a native ruin tour
Grapevine, Hermit, Crystal, Granite, and Gems
White water rapids galore
We pulled up at Camp Sand Storm
And gave a heavy sigh
Hid our faces, ate some sand
The wind died down and it was fine
Don't over stuff the burrito
Got a lesson from Jo - how to wrap
Yummy carrot cake for dessert
Stories about Crystal rapids
HOLY CRAP!!
Day 4
A slightly calmer day on the river
Some nice rapids and waterfalls
Some hiked and some relaxed
At a beauty - Deer Creek Falls
Dubendorf and Bedrock
Were no easy feats
The guides knew the rapids well
And they got 'em beat
We played a little game
Tell Two Truths and a Lie
We learned a lot about each other
I'm quite surprised, I won't deny
Aaron loves fish more than dogs
Newty has famous friends
Sean has tatts on his ass
And Billy sold pot way back when (kidding, I think)
Day 5
Day 5 started off cloudy
But got to meet a beauty -Havasu
Lovely flowing blue falls
So glad to spend time with you
This time I'm not "Upset" with Shorty
He didn't flop me about
I sucked the rubber and held tight
And did not fly out.
But Lava rapids- you son of a ***
You got me this time
You threw me up; I landed, formed a ball
Sean held me in; I am just fine.
Our last night together
Newty blessed us with "3" songs
I'm glad he can't count
I could have listened all night long
Day 6
Our last day together
Our last fire line
Our last camp take down
Unless....we schedule a next time
Although I'm bruised from head to toe
About 31 to be exact
My knuckles are in shreds
But in a heartbeat, I'd be back (and up front)
Personal awareness is necessary
Keep watchful eye around you
If not, you won't be aware
When water surrounds you.
Time spent with my son
Has truly been a pleasure
Although this trip was a gift for him
It is a memory I'll always treasure
The friends we've made on this trip
Have truly been a blessing
If we're judged by the company we keep.
We may meet again, in hell, I'm guessing (kidding)
All meals have been delicious
The guides cook so well
In the evenings we waited anxiously
For that mealtime... shell/bell
The guides were truly awesome
They deserve a big hand
Their hard work, knowledge, and friendliness
Have truly made this CANYON trip GRAND!
Guides: Newty, Shad, Parker, Lauren

Related Trips
Grand Canyon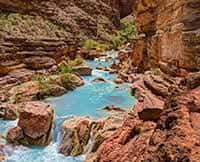 Grand Canyon 6-7 Day Vacation
A unforgettable journey of 188 miles from Lake Powell to Lava Falls.