6-7 Day Grand Canyon Vacation
This Was My First Grand Canyon Trip With Western, and I'm Already Excited to Plan My Next
Shawn F. - Bountiful, USA | June 22, 2021
We were booked on the June 8-13 trip and it was an amazing experience. Knowledgeable, engaging, experienced, and conscientious staff were the best part of this world-class river canyon venue. Add to that a truly tech-disconnected and highly personal experience (which alone was worth the investment) and you've got the makings of a wonderful week. Engaging in refreshing and welcome conversation with the staff, your family, and new friends, for hours each day, enabled a wonderful level of interaction and collegiality. The equipment and boats were top-notch and reflected Western's decades of process refinement and technical engineering. The canyon and its geology, as well as its hidden gems and side attractions, were presented to us with enthusiasm and attention to detail that made us feel it was the staff's only trip all year. My every question and concern was quickly addressed with courtesy, kindness, punctilio, and aplomb. In fact, I may qualify for a minor in geology now after the week-long course in sandstone, uplift, and Vishnu-schist. The rapids were spectacular, but I came home with usable knowledge and a new hobby. I've already exhausted the YouTube schist collection. And if you're looking for some good food, this trip will make you believe in delicious food in a spectacular, wild setting again. The meals were well designed, creatively planned, and craftily prepared. And plentiful. The guides' boundless energy was on display throughout each day and I left feeling like I'd been given a new example of top-notch customer service.
This was my first trip with Western, and I'm already excited to plan my next. A memorable experience I'll not soon forget, but hope to repeat.

Related Trips
Grand Canyon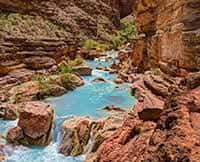 Grand Canyon 6-7 Day Vacation
A unforgettable journey of 188 miles from Lake Powell to Lava Falls.