6-7 Day Grand Canyon Vacation
A Superb Bucket List Adventure Trip! - Colorado River
Steve & Karen R. - Utah, United States | July 10, 2020
We went on the June 24, 2020 7-day Grand Canyon river trip, and it was the adventure of a lifetime!
We loved our river guides who made all their hard work seem effortless (thanks Shad, Newty, Lauren, and Stephanie). We ended up with a wonderful group of people who were so fun on the trip.
The water was cold, but the weather was hot and beautiful. Camping was occasionally windy, but we loved it all. The hike to the Little Colorado River was one of our favorites. The water is so warm and turquoise, you can hardly believe it. We loved the delicious food and there was plenty of it. Other hikes to Deer Creek Falls, Elves Chasm, and Havasu Creek were also favorites. On the way to Elves Chasm, we had a unique adventure: we startled two big horn sheep on the path, and they had no where to go but jump over our heads and dive down the rocky slopes with their sure-footed hooves. Our guides had never seen that before, and we were all whooping and hollering at the sight of them. One of our friends lost a waterproof hiking boot off of his foot in one of the big class 8 rapids. Who would have thought that 2 hours later when we stopped for lunch that we could spot the boot floating down the river and were able to scoop it up?!
Western River provides a superb experience. They were particularly mindful of COVID-19 requirements and we felt very safe there. What a perfect getaway from all the craziness in the world, where you could just unplug and enjoy the incredible scenery and rapids. Western River Expeditions is so organized with all the details, and the helicopter and small plane ride at the end completed the adventure.
We highly recommend this trip, and we wouldn't consider any other rafting company for floating the Grand Canyon!

Related Trips
Grand Canyon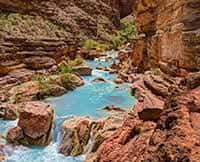 Grand Canyon 6-7 Day Vacation
A unforgettable journey of 188 miles from Lake Powell to Lava Falls.
Grand Canyon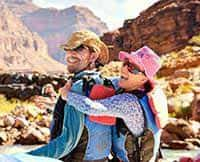 3 Day Grand Canyon River Trip
Raft 100 miles on the Colorado River through Grand Canyon.
Grand Canyon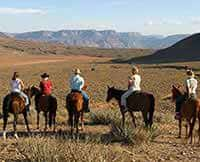 Grand Canyon 4 Day Tour
Combine your Grand Canyon rafting adventure with a day and night at a working cattle ranch.