4-Day Grand Canyon Tour
Thanks, Western River for an Unforgettable and Awesome Trip!
David D. - TN, United States | June 5, 2021
Absolutely one of the best trips I have ever been on. I've been white water rafting many times but nothing compares to this experience. The water and views of the Grand Canyon walls were beautiful. Jumping off cliffs and hiking to waterfalls were just two of the activities that we thoroughly enjoyed. The guides Steven, Wiley, Scott, and Kelly were all very friendly, knowledgeable, and wonderful cooks! I was actually very surprised at how great the food was on the river. My only regret is that I did not do the longer trip but I will be going back soon to do that for sure!

Related Trips
Grand Canyon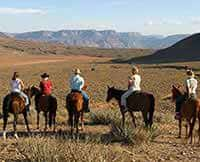 Grand Canyon 4 Day Tour
Combine your Grand Canyon rafting adventure with a day and night at a working cattle ranch.