6-7 Day Grand Canyon Vacation
A Trip for the History Books
Elaine R. - British Columbia, Canada | September 17, 2021
This trip was amazing, and one for the history books :) I love the outdoors, going on hikes, overnight hikes, camping, swimming, exploring new places. This trip was right up my alley. The guides, Stephen, Scott, Lorenzo and Mickey were the best, supportive and knowledgeable. The stories they told right before the crazy rapids were hilarious, and I absolutely loved Scott's Asbestos joke :p The food was amazing, I especially loved the fact that I didn't have to prepare it, as that is what I dread the most after a long day of hiking, so that was a luxury. And my favorite part of the day, falling asleep on my comfy cot underneath the stars, I would tell myself to stay awake for as long as possible so I could continue to look up at the stars. This was an unforgettable experience, I will 100% recommend it, and hope to come back one day with my husband. I already miss our guides!
Thanks again, Elaine.

Related Trips
Grand Canyon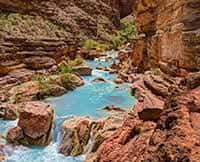 Grand Canyon 6-7 Day Vacation
A unforgettable journey of 188 miles from Lake Powell to Lava Falls.
Grand Canyon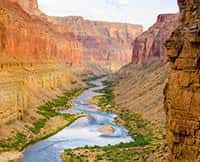 Grand Canyon Rafting Trips
Experience a 3 to 7 day expedition filled with whitewater excitement, spectacular waterfalls waterfalls and starry nights.