6-7 Day Grand Canyon Vacation
Absolutely Perfect!
Tanya . - CA, USA | August 28, 2019
What an incredible adventure. When I asked my husband how he was going to answer the 'how was your rafting trip' question once we returned home, he just looked at me and smiled. There really are no words that adequately describe this experience. The guides are amazing, smart, funny, caring, competent, hard working, happy....I could go on and on. The scenery changes every day, I took over 1000 photos! The memories we made from this trip will live in our hearts forever. Thank you Western River, we feel so blessed to have experienced your love of the Grand Canyon and the Colorado River.

Related Trips
Grand Canyon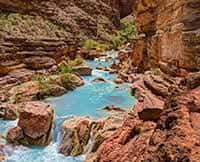 Grand Canyon 6-7 Day Vacation
A unforgettable journey of 188 miles from Lake Powell to Lava Falls.