3-Day Grand Canyon River Trip
Absolutely the Trip of a Lifetime Down the Grand Canyon
Robert H. - NY, United States | June 21, 2023
Western River Expeditions are by far the elite of the Grand Canyon experience. I had the experience of enjoying the 100th Trip with our Lead Guide Justin and his unbelievable crew. His wife Stephanie was an unbelievable guide along with our other two guides Noah and Daniel!! This team never stopped, always looking out to help you in any way possible! They made sure you were always hydrated, as dehydration can happen before you realize it. The food was amazing and always right on time! It's unbelievable that they can cook up so quickly! Their knowledge of the Grand Canyon was always spot-on, and quickly to point out anything of importance. I can't wait to return for the 4-day trip with my grandkids. Just have to wait until they are old enough!! This company is the best!!

Related Trips
Grand Canyon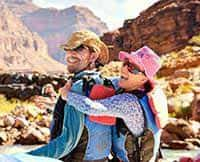 3 Day Grand Canyon River Trip
Raft 100 miles on the Colorado River through Grand Canyon.
Grand Canyon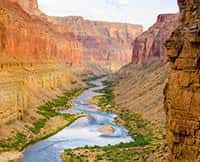 Grand Canyon Rafting Trips
Experience a 3 to 7 day expedition filled with whitewater excitement, spectacular waterfalls waterfalls and starry nights.