4-Day Grand Canyon Tour
Adventure Like No Other! Rafting the Grand Canyon
Merry . - WA, USA | August 21, 2020
From ages 9 to 72, we floated down the Colorado River under blue skies and 108 degrees, but laughter helped us keep our cool. Our crew of Stephanie, Derick, Parker and Lat were the best, keeping use hydrated with cold water and entertained with stories about the river.
The food was excellent with a steak dinner one night. That steak was so big, four of us could have shared! Sleeping under the stars was magical, though hot. Everyone was friendly and accommodating.
The Bar-10 Ranch has the most welcoming staff and applaud them for keeping it in the family. The helicopter ride from the ranch to our rafts in the canyon left a permanent image with me as I got to sit in the cockpit!
We did get some good rapids in and rode those like a bucking bronco. This was a wonderful departure from the chaos happening all around us.

Related Trips
Grand Canyon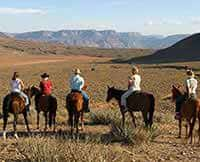 Grand Canyon 4 Day Tour
Combine your Grand Canyon rafting adventure with a day and night at a working cattle ranch.
Grand Canyon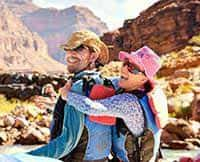 3 Day Grand Canyon River Trip
Raft 100 miles on the Colorado River through Grand Canyon.
Grand Canyon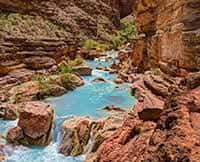 Grand Canyon 6-7 Day Vacation
A unforgettable journey of 188 miles from Lake Powell to Lava Falls.