6-7 Day Grand Canyon Vacation
A Grand Canyon Adventure of a Life Time
Karen B. - Ca, Usa | August 18, 2021
Here is just a small glimpse of my days in the Grand Canyon. I can't even explain how spectacular white water rafting is in not-so-white water. More like muddy milk chocolate, fast-flowing rapids.
However, what I can tell you is you have to go and experience it yourself. To be disconnected, go with the flow of the water and live by the sun coming up and going down with only the supplies that you brought….It is very humbling!
Many people have died trying to go the 188 miles distance that we did which made a new adventure every day. Bonding with your raft mates and making connections with complete strangers made for a strong team and forever friendships. Another thing crossed off the bucket list but there's still so much of the world and exciting excursions to be discovered. #LivingMyBestLife #NeverSayNever #BeastModeBriley #MakingMemories

Related Trips
Grand Canyon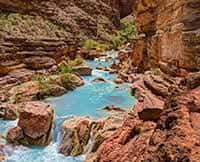 Grand Canyon 6-7 Day Vacation
A unforgettable journey of 188 miles from Lake Powell to Lava Falls.
Grand Canyon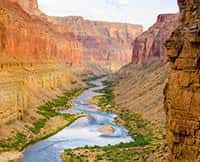 Grand Canyon Rafting Trips
Experience a 3 to 7 day expedition filled with whitewater excitement, spectacular waterfalls waterfalls and starry nights.