4-Day Grand Canyon Tour
All Good Except Could Improve Waste Generated
Shari . - CO, USA | July 24, 2019
We had an absolute blast on the trip and our guides were highly skilled, knowledgeable, passionate, accommodating, caring and FUN. The food was amazing and organization impressive. Our only criticism was the unnecessary and avoidable waste generated. Specifically we were very disappointed to see single use plastics for dessert plates and shrimp cups. Also, disappointed that only cans were recycled, not plastics nor glass bottles. There appeared to be a LOT of food waste as well (understandable that they want to feed people plenty, but if it was explained that they are trying to reduce waste, people would understand that they may not get third helpings...)At the end of the trip, when we got off the raft and onto the bus, we were really disappointed that people were handed single-use plastic water bottles!! This could easily have been avoided by having a large thermos with ice-cold water for people to refill the water bottles we'd been using all week. Of course, a few of us refused, but not many, which brings me to my final suggestion - for the company to start at registration and too continually educate/inform and empower people on the trip with the "leave no trace" message.
Being in such an amazing place opens ones heart and one can't help but love the land/canyon. We all protect what we love, so helping folks see how they can take simple measures to protect this canyon will not only feel good, but perhaps make an impact as we all return to our lives..

Related Trips
Grand Canyon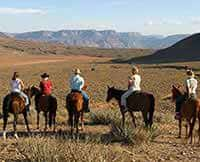 Grand Canyon 4 Day Tour
Combine your Grand Canyon rafting adventure with a day and night at a working cattle ranch.