Cataract Canyon 4-Day Trip
Amanda and Deno in the Grand Canyon
Dean B. - British Columbia, Canada | June 19, 2022
Wow !! It was so dramaticly awesome trip that at times to find the right words are not possible. Little Aussie amd I had such an amazing trip amd made all the new friends ….. even adopted by the Crazy Warner family !!!
We havnt stopped talking about all the great little details that made up the adventure !!
Our Guides were second to none . Our captain ruled like a true professional amd expert . The right man for the job indeed . We thank you , WRE , for one of the greatest vacations we have ever had ✌️🙏👍
Deno

Related Trips
Utah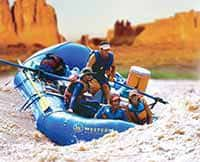 Cataract Canyon 4 Day Trip
Experience 4 Days through the heart of Canyonlands National Park.