6-7 Day Grand Canyon Vacation
Amazing Rafting in Grand Canyon
Erika & Emma . - MD, USA | September 2, 2019
This was a mother/daughter trip. I was super excited that Emma was now 12 and we could do this trip together. The amazing experience we had together will be unforgettable. From the laughing and giggling during the rapids (note to self, keep mouth closed before full face rapid hits) to the nightly star gazing and girl talks. Our guides, Lutke, Daniel, Travis, and Mickie were exceptional from the moment we met them they put everyone at ease and were so friendly and outgoing. Daniel's knowledge of the Canyon was so impressive yet you couldn't get enough! The food was top notch!!! The full 6 day trip was something my daughter and I will never forget!!

Related Trips
Grand Canyon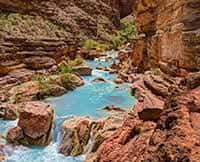 Grand Canyon 6-7 Day Vacation
A unforgettable journey of 188 miles from Lake Powell to Lava Falls.