4-Day Grand Canyon Tour
Amazing Grand Canyon Adventure and Life Experience!
Linda . - DE, USA | September 19, 2017
What a great trip! As a little girl growing up on the east coast I read stories of life out west and always wanted to explore different areas when I got older and on my own. I been to a lot of interesting places but this trip to the Grand Canyon ranks one of my best experiences! Since I retired from the tourism industry going rafting on the Colorado River in the Grand Canyon was on the top of my list and I was not disappointed! I can't say enough about WRE guest services. They know how to do it right and I was so glad I selected the 4 ay 3 night package for the first time which included the Bar 10 Ranch experience before going rafting. So don't waste time and plan a trip with WRE... I'm glad I did!

Related Trips
Grand Canyon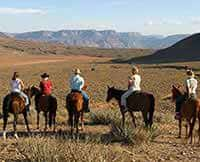 Grand Canyon 4 Day Tour
Combine your Grand Canyon rafting adventure with a day and night at a working cattle ranch.