Western's ​COVID-19 Mitigation & Operations Plan is in effect.
Amazing Desolation Canyon Rafting Trip
Kerri . - UT, USA | August 2, 2019
This Desolation Canyon Rafting trip was so much more amazing than I expected. The river guides were awesome! The whole experience was a once in a lifetime trip. Every aspect of the trip was well thought out and done exceptionally , from the rafting, the food, to the sleeping arrangements. I never felt like I was not fully taken care of. I highly recommend this trip.
Desolation Canyon 5-Day Trip

Related Trips
Utah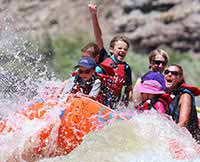 Desolation Canyon
Astounding scenery, over 60 rapids, and great beaches!