Western's ​COVID-19 Mitigation & Operations Plan is in effect.
Amazing - Desolation Canyon Rafting
Annie . - , | August 22, 2019
This experience was something I will never forget, there is nothing like being in the middle of nowhere completely disconnected from the world. The people, food, and views are absolutely amazing.
Desolation Canyon 5-Day Trip

Related Trips
Utah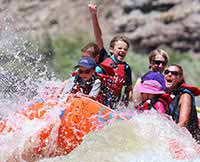 Desolation Canyon
Astounding scenery, over 60 rapids, and great beaches!