6-7 Day Grand Canyon Vacation
Amazing Grand Canyon Adventure! Fabulous! Life Changing
Alisse C. - MO, USA | September 24, 2016
This was a life changing trip. I am a busy attorney who questioned whether I could be off the grid for 6 days. No problem. We spent the day talking, meeting new friends, hiking, staring at the most beautiful scenery you can imagine.
No one slept with a tent because you didn't want to miss the most beautiful sky you would ever see. And don't worry there were no bugs.
The raft was the only one of its kind in the canyon. In this raft you can sit in front and hold on to ropes and ride the waves. If you want less excitement you can sit on the coolers. And when you want to rest you can sit in the chicken coop ( we called it the diva deck) and bask in the sun and the scenery.
The guides were amazing. Each of them. Scotty played his guitar and also, along with Jason, filled us in on the history of the canyon. They know each rapid and rock in the river and were amazing at guiding the raft through the Rapids. The trip went with two rafts - 14 on a raft so there were many new friends to make. The other guides were also amazing. Johnny runs a tight ship and there is a reason for that. Follow the rules and no one gets hurt.
The boats travel close together and stop for breaks, lunches and dinner together. Each night everyone sits and eats together.
The food was beyond amazing: Steak, chicken, fajitas. Pancakes, eggs Benedict, eggs. Even apple cobbler and ice cream!!
The packing list was right on. I didn't even wear things I brought with me. A couple of things I would recommend: a solar shower and a blow up mat for your cot. Bring alot of cream because it is very dry.
I would recommend this trip to anyone and plan to return ASAP with my boys. Don't even bother checking out other companies. There are none like Western Rivers.

Related Trips
Grand Canyon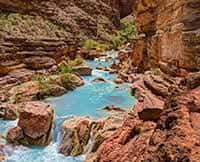 Grand Canyon 6-7 Day Vacation
A unforgettable journey of 188 miles from Lake Powell to Lava Falls.