3-Day Grand Canyon River Trip
Amazing in Every Way! – Grand Canyon
Noreen . - VA, USA | August 18, 2019
The Western River plan, supplies, resources, and guides made it so this middle-aged lady from the suburbs of DC could do the trip of a lifetime. The guides were more wonderful than words can express. The food was great (way better than it should have been), and you will probably not lose weight. Grand Canyon is worth doing this way, and worth every penny you spend on the trip, airfare (if necessary), the supplies you'll never use again, and the tip! You will learn a lot - about the canyon, about the earth, about people, about yourself. And, you'll be better for it. If you can afford to do this trip, don't be afraid. Sign up now. We had two people in our group in their 80s! If we can do it, you can do it.

Related Trips
Grand Canyon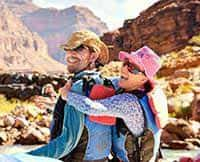 3 Day Grand Canyon River Trip
Raft 100 miles on the Colorado River through Grand Canyon.