Western's ​COVID-19 Mitigation & Operations Plan is in effect.
Amazing Trip! Desolation Canyon Is Beautiful
Cassidy . - UT, USA | August 3, 2016
Breathtaking canyon with very interesting history. Loved the hikes and stops to the old time houses along the river. Guides did an amazing job taking care of all the passengers. Guides also full of great information about the canyon, river, rock formations, and history. Would do the trip again in an instant!
Desolation Canyon 5-Day Trip

Related Trips
Utah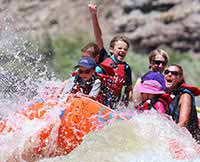 Desolation Canyon
Astounding scenery, over 60 rapids, and great beaches!