6-7 Day Grand Canyon Vacation
Amazing!!!! Trip of a Lifetime in Grand Canyon
Laura & Alan B. - , GBR | July 27, 2019
My husband Alan has always wanted to do a trip down the Grand Canyon and when our friends told us about their trip with Western River they had a done a few years previous - he said "right we are doing this". I was so nervous and out of my comfort zone and Alan was ready for anything! Well - we had the most amazing trip of a lifetime with our amazing river guides Lindsay and Jason (on our boat) and we cannot express our thanks enough to you both for making this trip so enjoyable. We felt so safe all the time and really admire your skills and appreciate the time and effort you took to make everyone feel welcome and part of this big adventure.
For me sitting in the chicken coop on day 1 to riding on the front of the boat on day 3 - never would have believed it and trust me my friends did not!!
We met the most amazing people on this trip and shared some amazing moments riding these amazing rapids - it really was one of the seven wonders of the world. The beautiful scenery is unbelievable and has to be seen, from the slow moments on the river to the hikes we did each day.
Fantastic breakfast, lunch and dinner every day - you cannot believe what they make bearing in mind you are on a raft for 7 days! Steak, fajitas, pancakes, trout to name a few. and with 2 large birthday cakes thrown in as well - you had to be there to believe it.
A great end to the day was sitting eating dinner and talking to the lovely people we met talking about the day.
We thoroughly enjoyed our trip and would totally recommend using Western Rivers to book this trip of a lifetime!
I would try and name a favorite moment but have to say i cant it was all amazing. It does not matter what age or size you are you have to do it.
Thank you again to Lindsay, Jason, Craig and Brett for making this the best holiday we have ever had!!

Related Trips
Grand Canyon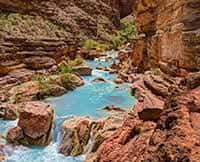 Grand Canyon 6-7 Day Vacation
A unforgettable journey of 188 miles from Lake Powell to Lava Falls.