4-Day Grand Canyon Tour
An Absolutely Amazing Experience That Was Made Possible by Very Organized, Helpful & Fun Guides!
Alice C. - MI, United States | September 14, 2022
This was definitely one of those bucket list items that I'm glad I didn't miss out on! I would first like to give a shout-out to our fantastic guides: Emily (Catron - possible kin??), Kelly, Steven, and Stephanie -> without your wonderful advice, delicious meals, great attitudes & never-ending supply of water/lemonade, I don't know if this experience would have made the label "absolutely amazing" :) I was EXTREMELY impressed with how organized and prepared the group was with having everything we needed to ensure a pleasant experience.
We had record-breaking temps when we were on our trip and it was brutal at times (at least when we were at camp) which could make sleeping at night a little difficult but the wetting of our bed sheet helped keep my body temp bearable. I'm not much of a camper and didn't find the cots very comfortable, but the night's views during some of those sleepless hours more than made up for it. I cannot express in words just how beautiful the canyon views were or how much fun I had rafting! It was truly an experience of a lifetime and grateful to our guides, those who put together the packing guide (the list is spot on!) & most especially.... the potty with a view :D

Related Trips
Grand Canyon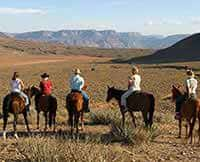 Grand Canyon 4 Day Tour
Combine your Grand Canyon rafting adventure with a day and night at a working cattle ranch.
Grand Canyon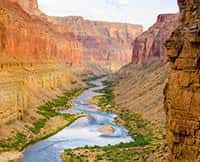 Grand Canyon Rafting Trips
Experience a 3 to 7 day expedition filled with whitewater excitement, spectacular waterfalls waterfalls and starry nights.