Cataract Canyon 2-Day Express
An Amazing Experience on Cataract Canyon Express
Barney . - CA, USA | July 12, 2019
What fun my wife and I had. We went with a group of 9 people (total group was 13) and everyone enjoyed the river. Daniel and Nick were great professional guides. They went above and beyond to make sure that the entire Cataract Canyon Express trip was memorable. From meeting us at the hotel in the morning to dropping us off the next day in the afternoon Western River had everything set up and ready to go. We are considering the Grand Canyon tour next.

Related Trips
Utah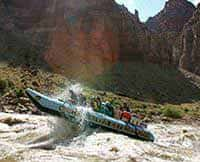 Cataract Canyon Express
Raft the 100 miles of Cataract Canyon in just 2 Days!