Hells Canyon Rafting Trip
Hells Canyon – An Experience I'll Always Remember!
Erika . - MI, USA | July 29, 2019
Thank you to the guides for providing a wonderful experience in Hells Canyon. We appreciate how hard you worked to make the trip an outstanding experience!

Related Trips
Idaho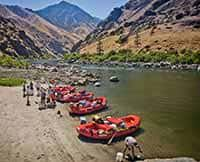 Hells Canyon Rafting Trip
The deepest river gorge in North America and some of the largest whitewater rapids in the Pacific Northwest.