6-7 Day Grand Canyon Vacation
An Unforgettable Bucket List Trip for Us!
Kathy C. - TX, United States | August 13, 2021
My husband, Wesley and I were going to celebrate our 25th anniversary, and wanted to fully experience the Grand Canyon. I found Western River's website years ago and requested a catalog. From the moment it arrived, we delved into it and could tell it was a top-notch company, and began planning our trip!
The beauty of this place is just too difficult to describe to others. Floating down the Colorado river, looking up at rugged mountains makes you feel incredibly small. The endlessly rich colors are magnificent against the blue sky. Spotting big horn sheep migrating across the mountains was a real high point for us! Cruising over and through the rapids was nothing short of thrilling! And sleeping under a blanket of the brightest stars I've ever seen, made us feel like we were inside a planetarium at night. I could actually see satellites moving across the sky (thought it was aliens once or twice, haha!)
We still marvel at how good the food was: the coffee was brewing bright and early every morning, breakfasts and lunches were delicious, and dinner included appetizers, main course and always a dessert. YUM! The efficiency of the way everything was packed was very impressive!!
But for Wes and I, our guides were the best part of the trip. This is something that cannot be touched upon enough. It is hard to explain exactly what our amazing guides brought to the trip.
I have to admit I was a little nervous about being in such a remote location at the beginning (what if something happens? what if someone gets hurt?) but our guides have decades of experience and made everyone on the trip feel extremely safe and secure. But they brought so much more...every morning, they would share inspiring stories and readings to start our day. All along the river, they shared the incredibly rich history, legendary tales and stories of the pioneers and early tribes who settled the area.
On our boat, Mackay told us the names and background of each rapid we were about to cross, and yelled out "Hang On!" just before going into it...pretty soon, I was asking why he would yell "Hang On" before each one and if there was a story behind that phrase. He said yes and that he would tell us on the last full day. Well, suffice to say, he did share the origin of where the "Hang On" phrase came from, and let me tell you, he had everyone on our boat holding their sides with laughter. I'll never forget that story and the sheer fun our guides brought to all of us every single moment of that trip. They were absolutely the BEST! The trip would not have been the same without them. Jeff, Roni, Mackay and Mark were such a joy to be around and brought everyone in our group together. They truly wanted to share this majestic place with all of us and we could tell it made them happy when we were happy. We will never forget this amazing experience.

Related Trips
Grand Canyon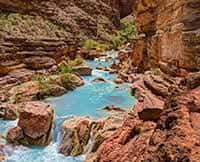 Grand Canyon 6-7 Day Vacation
A unforgettable journey of 188 miles from Lake Powell to Lava Falls.
Grand Canyon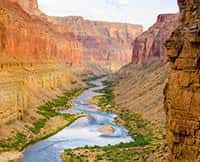 Grand Canyon Rafting Trips
Experience a 3 to 7 day expedition filled with whitewater excitement, spectacular waterfalls waterfalls and starry nights.