3-Day Grand Canyon River Trip
Grand Canyon, Awe Inspiring and Inspirational
Michael . - , AUT | September 20, 2017
I will start with the guides: all of our guides (led by Steve) demonstrated incredibly in depth knowledge of the history, geography and geology of the area. They were very thorough on safety precautions,what could go wrong and how to manage for risk minimisation. It seemed many of the rapids on our journey had local tales linked to them, the guys in sharing this information with us were very entertaining. They handled all of the cooking and other "household" arrangements and did it all brilliantly. Why is it that food always seems to taste better outdoors? In this case, I blame the cook! Substantial and tasty meals at every meal stop made sure there were not too many leftovers:). Finally, listen to them their passion for the environment and the river and knowledge of local colour was awe inspiring.
The second part of the review focuses on the river: the Colorado River has many rapids of varying degrees of excitement - and challenge - for each of the travellers on the J-Rig. As you travel down the river each corner you turn displays another vista that takes your breath away. The towering walls of the canyon that in places seem to loom over you, the rocks and walls cropping out of the water and the swift and confused water of the many rapids all combine to make this rafting trip an inspiration to your senses. (Yes even the 2 nights camping out! I'm more of a Glamper).
The third part relates to our fellow rafters: You come together for the most part as complete strangers to each other. Over the course of the 3 days of conquering rapids, sharing in firelines (I will let the guides explain that one. No spoilers)! Roughing it in scenery that will blow your mind, then you start to come together as a team, you share bits of information about yourselves, occasionally a bit too much information :). By the end of the trip we have all started to make new friends. As the trip winds to an end, it's all a little bit sad to realise that we are parting and will likely never meet again. But as we approached the parting point, our team was held united by one thought...A long, really long hot bath!

Related Trips
Grand Canyon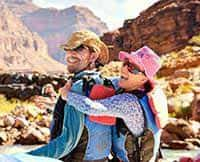 3 Day Grand Canyon River Trip
Raft 100 miles on the Colorado River through Grand Canyon.