Western's ​COVID-19 Mitigation & Operations Plan is in effect.
Cataract Canyon Express – Awesome, Amazing, and Unforgettable
Aaron . - AR, USA | August 25, 2019
The Cataract Canyon Express was absolutely one of the best adventures of my 65 years! My wife, Cris and I enjoyed every minute and made wonderful friends, we will always remember! This trip should be on everyone's bucket list that loves adventure and the outdoors!
Cataract Canyon 2-Day Express

Related Trips
Utah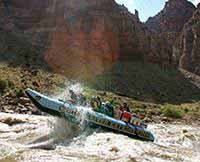 Cataract Canyon Express
Raft the 100 miles of Cataract Canyon in just 2 Days!