Cataract Canyon 4-Day Trip
Awesome! Do It! – Cataract Canyon Rafting
Ted . - PA, USA | July 11, 2019
Trip and crew were terrific. Don't worry about the rapids, Our J rig boat was huge because the water level was really high. Rapids were fun and the hikes were moderate skill level. Food was unbelievably good. Just do it!
No regrets.

Related Trips
Utah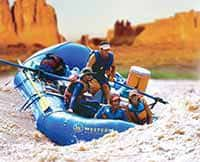 Cataract Canyon 4 Day Trip
Experience 4 Days through the heart of Canyonlands National Park.