4-Day Grand Canyon Tour
Grand Canyon 4 Day Was an Awesome Experience
Flora . - NM, USA | July 19, 2019
My husband and I took this same Grand Canyon 4 Day river trip 32 years ago. We made lifelong friends and had a wonderful time -- one we've never forgotten. So when our granddaughter turned 10 years old we made reservations so she could experience the same awesome adventure. She -- and we -- grinned and smiled from start to finish. Our time at the 10 Bar Ranch was a surprise delight (we stayed at different camp last time). Horseback ride and all the wonderful activities offered, including great meals, made for a fun stay. The evening "performance" was an added big PLUS. Kudos to the Ranch team for providing such a great experience. Then views from the helicopter -- seeing the CG from that vantage -- a big wow for her. And finally the raft trip. 80 rapids -- what a thrill. The views of the Canyon from the river are incredible. The company provides everything for a safe and very special trip.
Highlight -- for me -- was seeing the joy on our granddaughter's face as she -- sitting on the front and center pontoon -- rode those rapids and get drenched. It My husband's highlight was sleeping under the stars. Actually we hardly slept because we hated to miss the meteor showers the 2nd nite. Thank you Western River for another great trip -- and taking such good care of the kids and us oldsters as well. I know our granddaughter will never forget it -- and we won't either!!!

Related Trips
Grand Canyon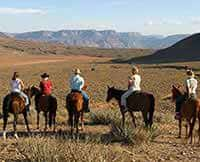 Grand Canyon 4 Day Tour
Combine your Grand Canyon rafting adventure with a day and night at a working cattle ranch.