3-Day Grand Canyon River Trip
Awesome Guides, Less Than Ideal Equipment.
David . - LA, USA | June 23, 2016
This is the 2nd time that my wife and I have done this trip, only this time we brought our 2 grandsons (age 9 and 12) with us. It was a remarkable trip and we loved it, The guides are outstanding and the food is great. The only issues we had was the fact that our sleeping bags were not clean. They had been used by the previous rafters that had just finished a 6 day trip. We were provided with some freshly laundered lite fleece bags which wasn't much heavier than a lite blanket. The 2 nights we camped were unseasonably cool and the fleece bag wasn't warn enough for my wife, the 2 young grandsons or myself and we had to use the dirty sleeping bags for warmth. Even though you are provided a clean sheet and a fresh lite fleece bag, when you're trying to get warm in the middle of the night, you can't always protect yourself from a bag that's been used for 6 days by someone else. A bit yucky, even in primitive conditions. Also on both nights, we had at least one of our 4 camp chairs that were broken and difficult to operate. Some of the other campers also complained of broken chairs. But in perspective, the chairs were extremely minor compared to the wonderful scenery and the knowledgeable and friendly guides. The 2 grand boys were treated especially well by the guides and I truly appreciated that.

Related Trips
Grand Canyon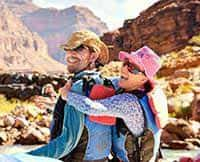 3 Day Grand Canyon River Trip
Raft 100 miles on the Colorado River through Grand Canyon.