6-7 Day Grand Canyon Vacation
Awesome! Refreshing! Humbling! - Grand Canyon Rafting
Ronald . - WA, USA | August 26, 2019
Wow, what a great week of fun and excitement! Our group of 6 planned this trip for over 2-years and were extremely satisfied with the level of competence and expertise from day-one. Not only our guides, Ben, Kiefer, Stu, and Marc, but the Western River office that helped us organize it all. What we learned about the Grand Canyon and seeing it for ourselves with the white-water and camping adventures cannot be described as anything other than AWESOME! It was great bonding time with my 12-year old son Alec, as much as it was with my daughter and her husband. We had a great week of adventure and felt not only safe, but pampered. We met great people and had a wonderful experience that we highly recommend to anyone. Thanks for making it easy for us to enjoy the Colorado River and learn about the Grand Canyon!

Related Trips
Grand Canyon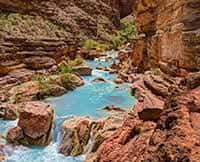 Grand Canyon 6-7 Day Vacation
A unforgettable journey of 188 miles from Lake Powell to Lava Falls.