3-Day Grand Canyon River Trip
Awesome Way to See the Grand Canyon
Debbie A. - NV, United States | May 16, 2021
WOW! To sleep under the stars...enjoy lots of rapids...eat like KINGS and Queens....joy VIP service ...get lots of River education and geology history....can't imagine the trip would nearly be such a WOW!

Related Trips
Grand Canyon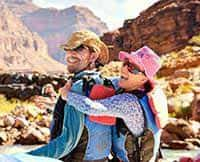 3 Day Grand Canyon River Trip
Raft 100 miles on the Colorado River through Grand Canyon.