Western's ​COVID-19 Mitigation & Operations Plan is in effect.
Beautiful, Amazing & Enjoyed Every Minute of It – Southwest Sampler Vacation
Ila . - TX, USA | July 30, 2019
All the guides were extremely knowledgeable (history, fun facts) & outstanding customer service (always friendly, smiles, polite, patience with the 15 different people). They took exceptional care in our well-being and safety by reminding us to refill bottles, drink and provides snacks for tours. The rafting & camping guides were also exceptional in care and safety of us. They did awesome job with food cooking, explaining & helping us, very patient. Also very entertaining, "tie fishing" where pit chicken between toes to feed the fish from river. We would do this again. Inspired us to look at Grand Canyon trips for next year's trips
Moab Vacation Package

Related Trips
Utah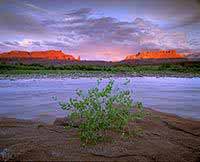 Moab Utah Southwest Sampler
Combine an overnight raft trip with an off-road Hummer Safari, and Arches National Park.