Rogue River Lodge to Lodge Rafting Trip
Beautiful & Relaxing Rogue River Trip
Bob & Sandy S. - MO, USA | September 12, 2019
Loved the lodge to lodge trip. All the lodge owners & their food were fantastic! The guides were fun & very knowledgeable! Great retirement & wedding anniversary, thank you all!

Related Trips
Oregon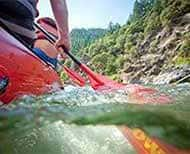 Rogue River Lodge to Lodge Trip
One of the most unique rafting vacations in the world. Astounding wildlife, scenery and historic river lodges each night.