Cataract Canyon 4-Day Trip
Beautiful Canyons – Cataract Canyon
Sue . - CT, USA | June 14, 2019
Guides were great, very accommodating. Need a few improvements.. loved the beach camp night but the other two were not good. One had no room for tents and blazing hot sun and other very thorny bushes.. secondly we need more then one day of rapids and third is less carbs .. more healthier food but I guess possibly hard to keep good.

Related Trips
Utah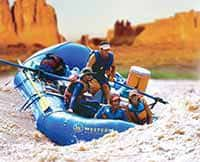 Cataract Canyon 4 Day Trip
Experience 4 Days through the heart of Canyonlands National Park.