Hells Canyon Rafting Trip
Beautiful Hells Canyon Trip and Good Rapids Every Day.
James . - WA, USA | July 15, 2019
Excellent food and the guides knew the history of the area and stops at homesteads we visited.

This was my second trip with Row Adventures and I really like having my tent set up when we get to our camp at the end of every day. The accommodations are always good and refreshments are available when we arrive.

The staff is very helpful in every way and that makes for a great trip!

Related Trips
Idaho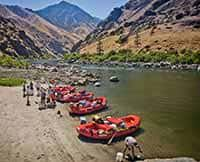 Hells Canyon Rafting Trip
The deepest river gorge in North America and some of the largest whitewater rapids in the Pacific Northwest.