Western's ​COVID-19 Mitigation & Operations Plan is in effect.
Best Adventure of Our Lives Rafting the Grand Canyon
Kevin . - FL, USA | September 29, 2019
The Grand Canyon 3 Day rafting trip was fun from flying and landing at the ranch - the ATV ride to board the Helicopter to the Jet Boat exit to the Bus ride back to Vegas. The Guides were fun and informative on the wildlife and the history of the Canyon and shared many interesting historic tidbits throughout the rafting trip and they could create a masterpiece of a dessert using a Dutch oven.
A great time from start to finish.!!
3-Day Grand Canyon River Trip

Related Trips
Grand Canyon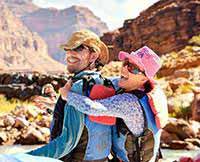 3 Day Grand Canyon River Trip
Raft 100 miles on the Colorado River through Grand Canyon.