Desolation Canyon 5-Day Trip
Best Ever!! – Desolation Canyon
John . - CA, USA | July 19, 2019
Our family trip on Desolation canyon was phenomenal and beyond all expectations. Our guides, Paco (TL), Lauren, Anthony, and Jacob were perfectly selected for our group and experience. They were the absolute best. Paco had an amazing leadership quality, Lauren might be the strongest rower on the river, Anthony with great cooking skills (and computer coding), and Jacob who singlehandedly enchanted and inspired all the kids on the trip. The other families were so much fun and interesting and it felt like the reservations crew selected all the right ingredients.
Desolation canyon is dramatic and majestic with awe inspiring views, peaceful drifts and some spirited rapids. I wasn't sure what to expect with our youngest child (age 7) but it turned out great. It was very safe and she came away empowered by a bit more fo a rugged vacation.
We ended the trip by planning when we will tackle the Grand Canyon!

Related Trips
Utah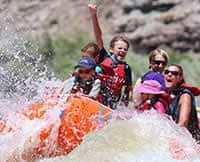 Desolation Canyon
Astounding scenery, over 60 rapids, and great beaches!