6-7 Day Grand Canyon Vacation
Best Family Vacation Ever in Grand Canyon
Bryan E. - WI, USA | July 19, 2019
We took this Grand Canyon trip for our honeymoon, 22 years ago. This time around, we got to our bring our kids (16 & 13). What I can tell you, is that it is the best family vacation we've ever taken.
It was so nice not having the distractions that we have in our "normal" lives. No iPhones, no computers, no TV's, no electricity! It was great to reconnect as a family!
Our guides (Newty, Lauren, Shad, and Parker) were absolutely fantastic. They truly make the trip. Their professionalism, along with their sense of humor, and knowledge of the Grand Canyon is what sets them apart. They met any need we had, and they are the best cooks you'll ever find. If you are worried about the food options, don't worry - I managed to gain 6 lbs!
The beauty of the canyon was as I had remembered it, only better! The canyon got prettier and prettier around every bend in the river. Truly mesmerizing.
Going on a trip with 20+ strangers can be a little unsettling, but I'll end my summary with this. We started the trip as strangers, we ended the trip as friends.
Great job Western River Expeditions!!

Related Trips
Grand Canyon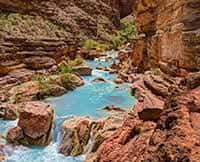 Grand Canyon 6-7 Day Vacation
A unforgettable journey of 188 miles from Lake Powell to Lava Falls.