Western's ​COVID-19 Mitigation & Operations Plan is in effect.
Best Trip Ever! – Grand Canyon Rafting
Elena . - IL, USA | August 25, 2019
My husband and I did the 6 day Grand Canyon Rafting trip. I was hesitant at first but so glad that I did it. The guides were amazing and very knowledgeable. The food was amazing. The scenery was incredible, like nothing I ever imagined. Made friends with great people that I hope to stay in touch with. I probably would do it again with friends and family. Trip of a lifetime!
6-7 Day Grand Canyon Vacation

Related Trips
Grand Canyon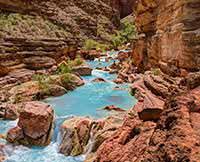 Grand Canyon 6-7 Day Vacation
A unforgettable journey of 188 miles from Lake Powell to Lava Falls.