Desolation Canyon 5-Day Trip
Desolation Canyon Rafting, Best Trip Ever!
Britta M. - CO, USA | August 17, 2017
When our parents announced we would be heading to the middle of nowhere for 5 days to celebrate their 50th wedding anniversary we were all doubtful at best. However, given the magnitude of the event we hesitantly agreed to go along with the plan. Boy, are we ever glad we did! Despite rainy weather, lots and lots of dirt, tents/cots to be assembled and disassembled, zero access to technology (and to a proper potty), no showers, and a few close encounters with wildlife we had the BEST time on our Deso trip!
Most of the credit for this goes to our amazing group of river guides-Drew, Abby, Derek, Kyle, Stu, and Tony. This lovely group of young adults worked tirelessly to get us all happily down the river, all the time with smiles on their faces! I can not say enough about what a pleasure it was to be in their company. They rowed all day, loaded and unloaded boat after boat, and kept us feed! We were consistently impressed with the food and the special touches our guides took in preparation. In addition to all their hard work our guides still found the time and energy to connect with each member of our party on a personal level. Each and everyone was amazing with our children, from endless games of Kubb to toe fishing this group of guides made memories that will last a lifetime for our kids. My kids had so much fun they camped in our backyard the night we got home! Please share with your guides our deep appreciation for being amazing role models for the little ones who accompanied us.
I would be remiss if I didn't recognize Deso for it's magnificent natural beauty and peaceful demeanor. The river provided just enough action to keep the 40'somethings from getting board while being gentle enough for the older generation. Our guides provided quite assurance that the kids from age 7 to 21 were safe and could explore the river on their terms allowing their parents respite from constant supervision. It isn't often these days that we have the opportunity to reconnect with nature, Deso eased us into the process, turning us out on the other end significantly more Zen than when we started!
5 stars is an understatement. Thank you and Namaste to Western Adventures for the best family trip we could imagine!

Related Trips
Utah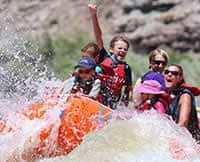 Desolation Canyon
Astounding scenery, over 60 rapids, and great beaches!